Regular price
¥13,530 JPY
Regular price
Sale price
¥13,530 JPY
Unit price
per
Sale
Sold out
TAYUMAZ Sauna Suit is a weight loss garment that is ideal for weight control and short warm-ups.


Main Features
Excellent heat and heat storage properties due to Ag material
Hiding zipper bugs to prevent injury in contact sports
Excellent antibacterial properties that suppress odors
Anti-static effect
Stylish slim silhouette
Outstanding stretch comfort
With detachable hood
The back side is silky and smooth to the touch, so it won't get sticky
Made in Japan sewing with attention to detail
Jacket size
(cm)
Length
bust
Snow length
S
63
53
81
M
66
55
86
L
69
57
88
LL
73
59
92
3L
76
61
95
4L
79
63
98
5L
82
65
100

← [Scroll] →
Pants size
(cm)

Waist




(flat x 2 times)

Hips

Rise

Inseam

Total length

Bottom width




(flat x 2 times)

S
58〜78
80
28
71
92
21
M
61~81
84
29
74
97
21
L
64〜84
90
30
77
100
21

LL
67〜87
94
31
80
105
22

3L
70〜90
98
32
83
108
22

4L
73〜90
102
33
86
110
22

5L
76〜96
106
34
89
112
22

*Please note that there are some errors in the actual size.
*Product measurements are in cm.
*The product is laid flat on a flat table and measured.
Excellent heat retention
The functional material ESTEDIMA Ag (silver) reflects infrared and far-infrared rays, reflecting the radiant heat generated by the human body and preventing it from radiating outside the body. It also efficiently absorbs the infrared rays of sunlight.

Thermograph data
Temperature change due to artificial sunlight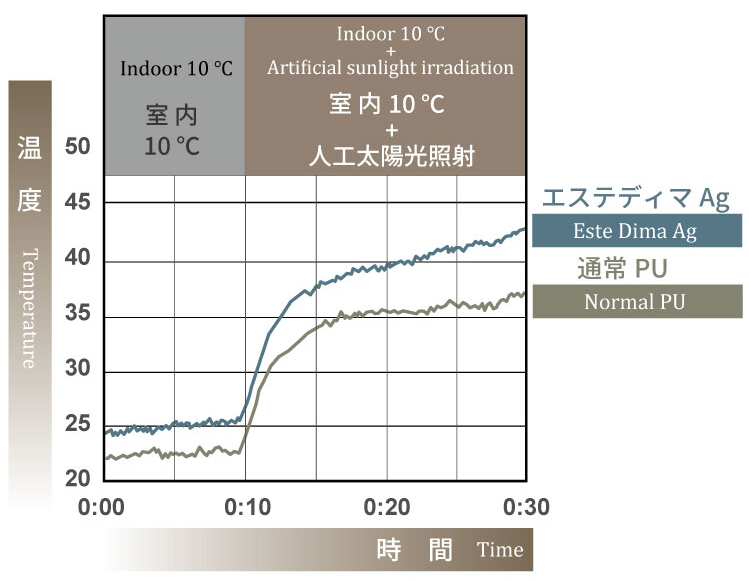 Functional material Esthetima Ag
Ag material is used for the fabric. Produces heat and heat storage.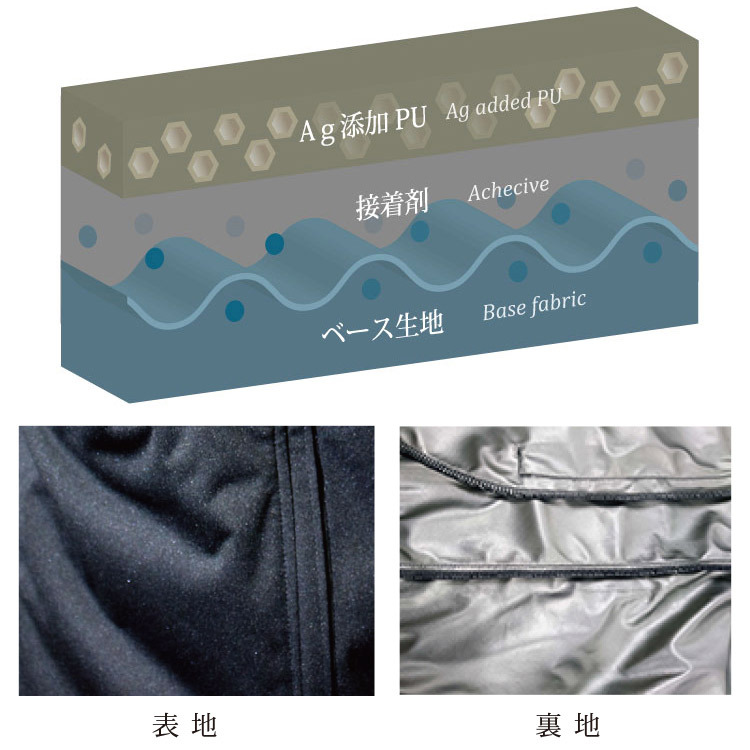 Bacteriostatic

Sterilization decomposes waste products from the human body and produces unpleasant odors such as the smell of sweat. Its effect is much higher than that of ordinary antibacterial products.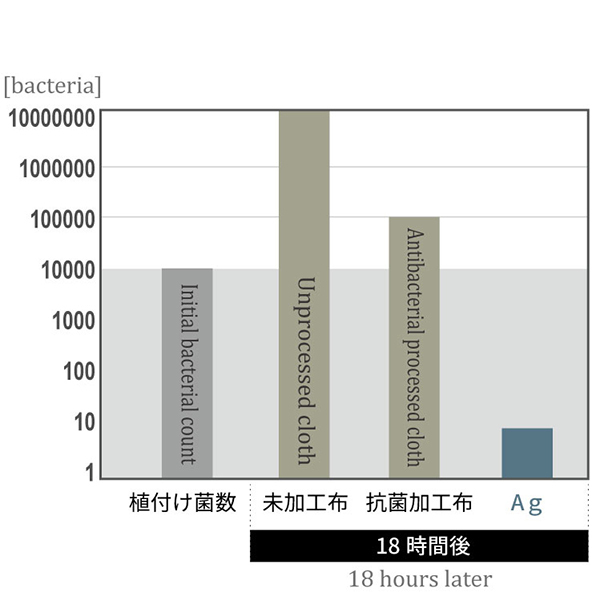 Antistatic

The silver discharge and static elimination function prevents static electricity from crackling and clinging to clothes even in the cold, dry winter.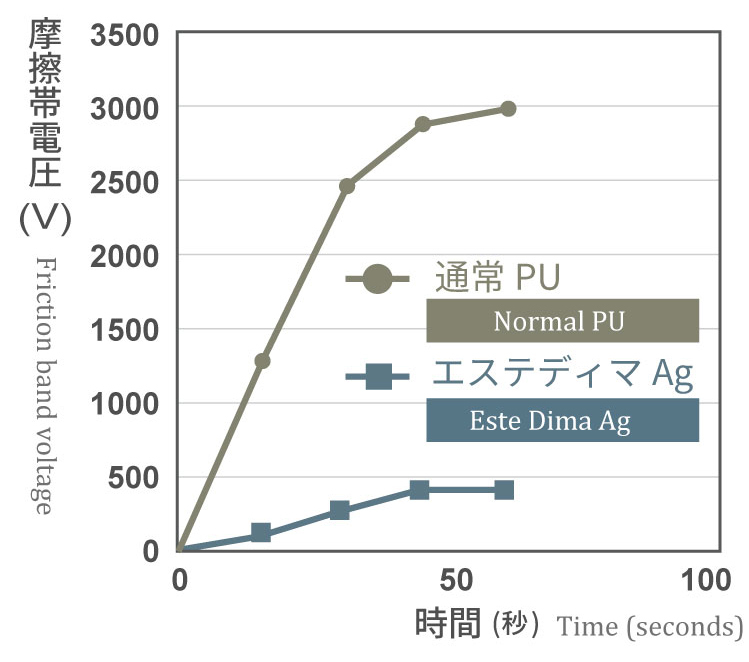 Multi-functional design

■To prevent injuries to opponents during contact sports, the zippers on the top and bottom are designed to cover the handles with gussets.
■The bottom has a zipper so you can put it on and take it off with your shoes on.
■ Velcro at the neck allows you to adjust the degree of opening and closing.
■A space on the chest where you can put a smartphone with a zipper closure.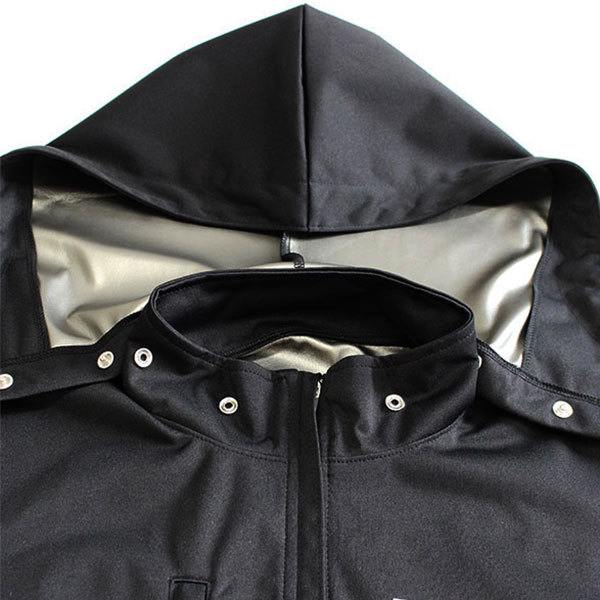 Daily maintenance
Cannot be used for tumble drying.
When using a washing machine, please close the zipper on low mode and use a laundry net.
Avoid centrifugal dehydration.
Do not leave it wet.
Avoid prolonged submersion.
When dehydrating, do not squeeze the water and hang it on a hanger to dry in the shade.
Do not store in places exposed to sunlight or in hot and humid conditions.
Do not store for a long period of time in situations such as stacking.

Please note the following about wearing.
The following people should consult a doctor before using this product.
- Those who feel swelling or dullness due to illness or injury.


-

Persons with high blood pressure or those with heart or kidney disorders.


-

Those with skin abnormalities such as itching and rashes.
If the size doesn't fit, don't force yourself to wear it.
If you feel sick during or after use, or if you experience any abnormalities such as itching, rashes, or pain, stop wearing the product and consult a doctor.
Do not use while sleeping.


Specifications
Color: Black
Material: 100% polyester, polyurethane laminate (back)
Made in Japan
Shipping & Returns

custom._return

Apparel products can be exchanged for size or returned after purchase.

After receiving the item, if you wish to exchange it for another size, please contact us in advance and return it to us within one week.
Customers are responsible for shipping costs when returning items.
Please handle the returned item as neatly as possible.

Refund Policy

We will accept returns or exchanges for apparel or other product defects or defects that are caused by our company. Please contact us within one week after the product arrives. After confirming the arrival at our shop, we will promptly refund as soon as we can confirm the initial failure.
View full details